Wood Badge 15-424-23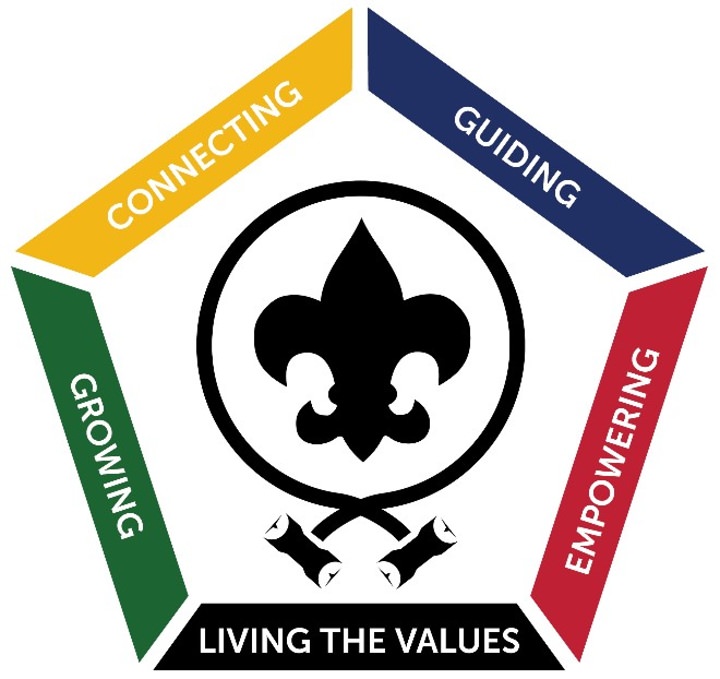 Weekend One
September 29-October 1, 2023
Weekend Two
October 21 & 22, 2023
WHO SHOULD ATTEND
Wood Badge is designed to meet the advanced leadership needs of all Scouters, particularly unit level Scouters, such as Cub leaders, Scoutmasters and assistants, Venturing Crew Advisors, Committee Chairs and members. Additionally, Scouters serving at the district and council levels can achieve greater effectiveness through Wood Badge.
To attend a Wood Badge course,
individuals must:
1. Be registered members of the Boy Scouts of America. (Youth 18 and older may attend if the appropriate Youth Protection guidelines are followed. They do not need to be registered in an
adult leadership role.)
2. Have completed the basic training courses for their Scouting position.
3. Be capable of functioning safely in an outdoor environment. All participants are required to complete the Annual Health and Medical Record form (Parts A, B & C.)
WHY WOOD BADGE?
Reflecting the best of nearly a century of Scouting experience, Wood Badge
draws upon the most current leadership models used by corporate America, academic circles, and successful organizations throughout the country.
Wood Badge training was begun by Baden Powell in 1919 to ensure that the leaders of Scout troops were properly trained. Since then, Wood Badge has been held worldwide, providing advanced leadership training to thousands of Scout leaders.
Wood Badge builds upon the best traditions and experiences of the Boy Scouts of America and also draws from a wide range of courses within and beyond the bounds of Scouting to present the latest in leadership theory and team development.
The program consists of two parts:
Practical Training
During this five-day course, you will live the patrol method. As a member of a patrol, you will practice skills of leadership and learn how to apply these skills in your role as an adult scouting leader. You will renew your scouting spirit and enthusiasm. You will do a better job in your scouting roles.
Applying what you Learn
During Practical Training, you will write your "Ticket" – a set of five goals designed by you to be accomplished by you. You will work your ticket, utilizing aspects of what you learn in the course. A Ticket Counselor will work with you to provide help and encouragement as you accomplish your goals. You will provide service to others, strengthen your unit's scouting program, and you will experience great personal growth as you meet your goals within 18 months after the final day of class.
HOUSING AND EQUIPMENT
You will sleep in non-heated cabins during the first weekend and move to an outdoor setting for the second weekend, sleeping in your personal tent. Meals for the first weekend are provided and served in the training building. For the outdoor weekend, each patrol will cook its own meals, with their own equipment and from their own menu. The closing luncheon on Sunday of weekend 2 will be provided.
REGISTRATION DETAILS
Registration is $230 Now until August 31, 2023.
Any outstanding balance is due in full by August 31, 2023. Participants who are fully paid by this date will be given priority in course placement.